Analysis Of Carrying Capacity of The Porong River Caused by Sidoarjo Mud Disposal
Keywords:
Porong River, Sedimentation, Sidoarjo Mud
Abstract
This study aims to examine the sediment distribution models and the stream sediment distribution due to mud disposal of Porong River. It examines how the sediment distribution models and deposition, the distribution of stream sediment due to mud disposal along with its impacts on the river's capacity, and whether the mud disposal has a harmful impact on the water quality. The data used were based on topographic and Bathymetric data of Porong River, cross-sections of the river, and terrain sediment distribution patterns. The study conducted field and secondary data analysis, hydrological analysis, oceanographic analysis of Mura River and river hydraulic analysis. The study concludes that to maintain its capacity and prevent negative impacts, it is necessary to protect the cliffs and embankments along the segment of the river. To protect the community pond area, overburden and/or river dredging activities along with the segments from the branch to the estuary of the river are needed. Furthermore, it is also necessary to add artificial inputs such as submersible Kribs that are arranged on piles to deal with problems of river sediments in the mouth of Porong River.
References
E. Suhartanto, Panduan AVSWAT 2000 dan Aplikasinya di Bidang Teknik Sumber Daya Air. 2008
S. Kure, B. Winarta, Y. Takaeda, K. Udo, "Effects of Mud Flows from the LUSI Mud Volcano on the Porong River Estuary, Indonesia," Journal of Coastal Research. Coastal Education and Research Foundation, vol. 70 no. 70, pp. 568-573, Apr, 2014
Peraturan Presiden Republik Indonesai Nomor 40, 2009, Badan Penanggulangan Lumpur Sidoarjo, Jakarta.
D. Priyantoro, Teknik Pengangkutan Sedimen. 1987
M. Mustain, "The Model of Current Pattern at the Mouth of Porong River Sidoarjo," International Journal of Civil Engineering and Technology (IJCIET), vol. 9, no. 1, pp. 688-701, Jan, 2018
B. D. Krisnayanti, D. S. Agustawijaya, "Characteristics of Lusi Mud Volcano and Its Impact on The Porong River," Journal of Degraded and Mining Lands Management, vol. 1, no. 4, pp. 207-210, July, 2014
L. K. Harlyan, R. Dwi, S. H. J. Sari, F. Iranawati, "Concentration of Heavy Metal (Pb and Cu) in Sediment and Mangrove Avicennia Marina at Porong River Estuary, Sidoarjo, East Java," Research Journal of Life Science, vol. 2, no. 2, pp. 124-132, Aug. 2015
F. Sidik, T. Hidayatullah, H. P. Kadarisman, C. E. Lovelock, "Evaluation of Mangrove Development in A Created Mangrove Wetland in Porong, East Java," Regional Symposium on Mangrove Ecosyste Management in Southeast Asia. Eds. Bedjo Santoso and Takahisa Kusano. Ministry of Forestry – Indonesia Proc., March, 2013
B. W. Parkinson, Global Positioning System : Theory and Applications, Volume II. 1996
A. K. Engki , P. Dj. Viv, "Tidal, Wave, Current, and Sediment Flow Patterns in Wet Season in the Estuary of Porong River Sidoarjo, Indonesia," ISOCEEN 2017. Matec Web Conference. vol. 177, pp. 1-13, July. 2018
G. W. Breusers, "River Analysis System HEC-RAS." Hydraulic Reference Manual Version 4.1. California., 2012
Peraturan Pemerintah Republik Indonesia Nomor 82, 2001. Pengelolaan Kualitas Air dan Pengendalian Pencemaran Air. Jakarta.
M. Triaji, R. Yenny, M. Mahmudi, "Analysis of Water Quality Status in Porong River," Jurnal Pembangunan dan Alam Lestari, vol. 8, no. 2, 2017
I. Suntoyo, Z. Hasan, S. Muhammad, N. Sukmasari, G. Angraeni, H. Tanaha, M. Umeda. S. Kure, "Modelling of the COD, TTS, Phosphate and Nitrate Distribution Due to the Sidoarjo Mud Flow into Porong River Estuary," Procedia Earth and Planetary Science, vol. 14, doi.10.1016/j.proeps.2015.07.095, Jul, 2015
G. Verstraeten, Ian P. Prosser, P. Fogarty, Predicting the Spatial Patterns of Hillslope Sediment Delivery to River Channels in the Murrumbidgee Catchment, Journal of Hydrology. 2007
Kustamar, L. K. Wulandari, "The Pollution Index ad Carrying Capacity of the Upstream Brantas River," International Journal of GEOMATE, vol. 9, no. 73, pp. 26-32, March, 2020.
Haribowo, R., Dermawan, V., & Yudha, N. (2018). Application of Artificial Neural Network for Defining the Water Quality in The River. Civil and Environmental Science Journal (CIVENSE), 1(1), pp.12-18. doi:https://doi.org/10.21776/ub.civense.2018.00101.2.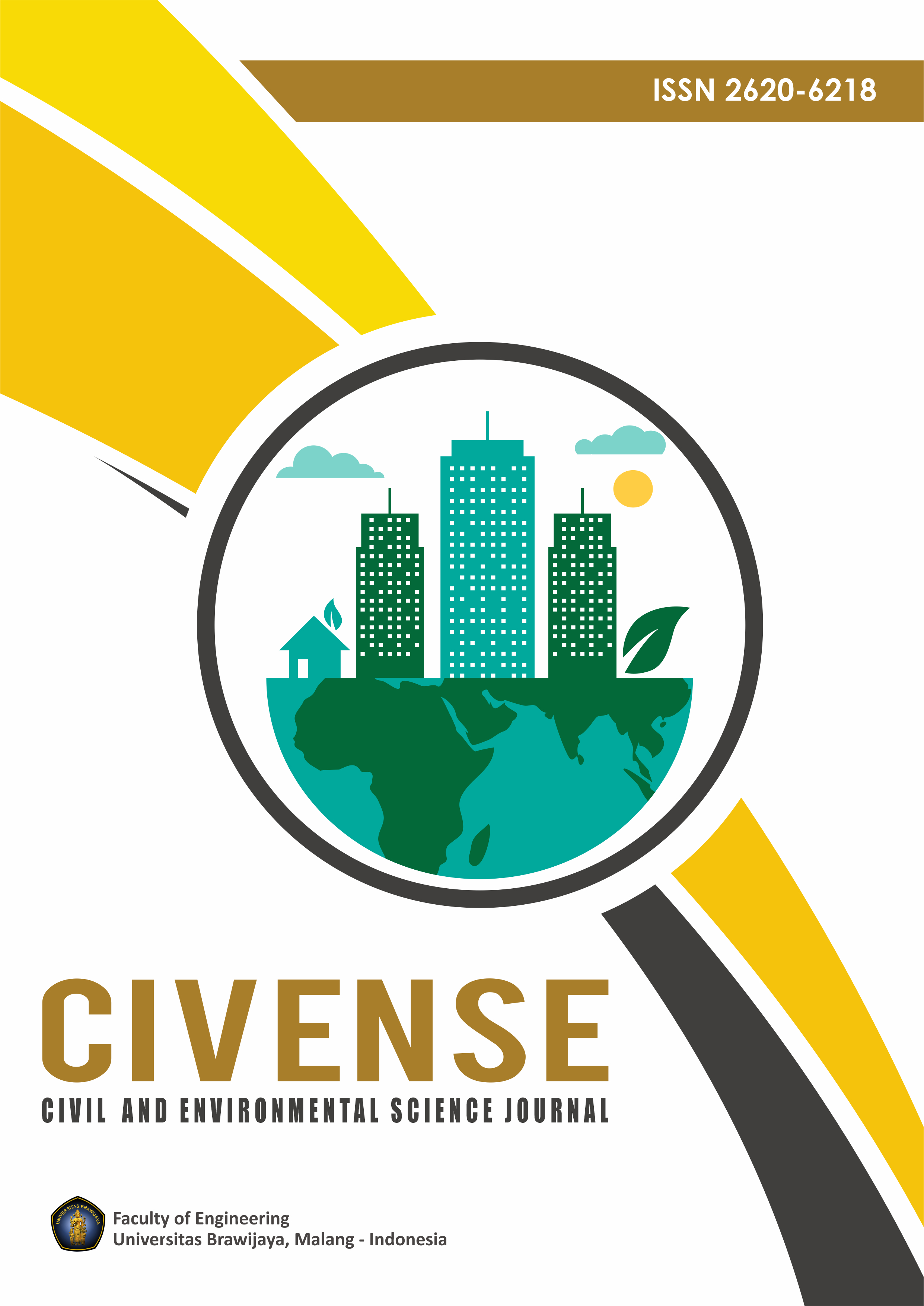 Downloads
How to Cite
[1]
R. A. Saputro, S. Sisno, and P. T. Juwono, "Analysis Of Carrying Capacity of The Porong River Caused by Sidoarjo Mud Disposal", CIVENSE, vol. 4, no. 2, pp. 192–201, Aug. 2021.
License
Copyright (c) 2021 Civil and Environmental Science Journal (Civense)
This work is licensed under a Creative Commons Attribution-NonCommercial 4.0 International License.
Authors who publish with this journal agree to the following terms:
Authors retain copyright and grant the journal right of first publication with the work simultaneously licensed under a Attribution-NonCommercial 4.0 International License that allows others to share the work with an acknowledgement of the work's authorship and initial publication in this journal.
Authors are able to enter into separate, additional contractual arrangements for the non-exclusive distribution of the journal's published version of the work (e.g., post it to an institutional repository or publish it in a book), with an acknowledgement of its initial publication in this journal.
Authors are permitted and encouraged to post their work online (e.g., in institutional repositories or on their website) prior to and during the submission process, as it can lead to productive exchanges, as well as earlier and greater citation of published work (See the Effect of Open Access).