Improving the quality of toll Road services to increase satisfaction level of Pekanbaru – Dumai toll road
Keywords:
Toll road, service quality, Satisfaction level
Abstract
Pekanbaru - Dumai toll road is one of the segments of the Trans Sumatra toll roads built by PT Hutama Karya. The Pekanbaru - Dumai toll road connects economic centers in Riau Province, including Dumai-Duri-Kandis-Petapahan-Minas-Pekanbaru. On the Pekanbaru-Dumai toll road, problems with service quality were found. This research has two objectives: to analyze the quality of service and level of satisfaction of the toll road users assessed from the toll road users. The second objective is to formulate referral recommendations to fix and improve the quality of toll road services in terms of the needs and expectations of toll road users. This study employs IPA analysis to identify the degree of performance and the level of importance of service qualities, CSI analysis to determine the level of satisfaction of toll road users, and QFD analysis to define the development priorities for the Pekanbaru-Dumai toll road. The results of this study obtained that the satisfaction level of the Pekanbaru-Dumai toll road was 0.63, with the category quite satisfied. The priority is toll road surface maintenance regularly, the second priority is toll road lighting facility maintenance regularly, the third priority is toll road safety facility maintenance regularly, the fourth priority is to improve rest area facilities, the fifth priority is to expand parking in the rest area, and the absolute priority is to enforce electronic fines or (e-ticket) for traffic violations.
References
M. Harum and Sutriani, "Pengaruh Pembangunan Jalan Tol Sutami Terhadap Nilai Lahan Disekitarnya," Nature: National Academic Journal of Architecture, vol. 4, no. 1, pp. 66-73, 15 June 2017.
M. M. Sembirng, "Analisis Dampak Pembangunan Infrastruktur Terhadap Pendapatan Masyarakat : Studi Kasus Pembangunan Jalan Tol Pekanbaru-Minas," Repository Universitas Islam Riau, Pekanbaru, 2022.
F. Fuadi and M. R. Nasrudin, "DAMPAK PEMBANGUNAN JALAN TOL TRANS SUMATERA TERHADAP ALIH FUNGSI LAHAN PERMUKIMAN DAN PERSAWAHAN MASYARAKAT DITINJAU DALAM PERSPEKTIF EKONOMI ISLAM," Jurnal Ilmiah Edunomika, vol. 6, no. 2, pp. 1-7, 2022.
Husin, P. Prananingtyas and S. Mahmudah, "ANALISIS PENERAPAN PEMBAYARAN TOL MENGGUNAKAN E-MONEY," Diponegoro Law Journal, vol. 8, no. 1, pp. 396-416, 2019.
A. Irfan, H. Nenobais and Darmanto, IMPLEMENTASI STANDAR PELAYANAN MINIMAL JALAN TOL (Sebuah Pendekatan Kebijakan Publik, vol. I, Banyumas, Jawa Tengah: CV Amerta Media, 2021.
H. T. Zuna and A. Retapradana, "ANALISIS PERSPEKTIF PENGGUNA TERHADAP PENINGKATAN KUALITAS PELAYANAN JALAN TOL (Studi Kasus : Jalan Tol Metropolitan Surabaya)," Jurnal Sosial Ekonomi Pekerjaan Umum, vol. 7, no. 3, pp. 181-191, 29 October 2015.
T. Paputungan, L. F. Tamengkel and O. F. Walangitan, "Pengaruh Kualitas Pelayanan Terhadap Kepuasan Pelanggan PT JNE Kotamobagu," Productivity, vol. 2, no. 5, pp. 397-402, 2021.
I. M. Ardhika, ANALISIS TINGKAT KEPUASAN PELANGGAN TERHADAP KUALITAS PELAYANAN JASA JALAN TOL JAGORAWI PADA PT. JASA MARGA (PERSERO), Bogor: Institut Pertanian Bogor, 2007.
E. Pancawati and A. A. G. Kartika, "ANALISIS LAYANAN JALAN TOL BERDASARKAN KEBUTUHAN PENGGUNA (STUDI KASUS RUAS JALAN TOL SURABAYA – GRESIK)," in Prosiding Seminar Nasional Manajemen Teknologi XIX, Surabaya, 2013.
A. A. G. A. Yana, I. N. Y. Astana and B. S. Salasa, "EFEKTIVITAS LAYANAN JALAN TOL BALI MANDARA DALAM MEMENUHI KEPUASAN PENGGUNA," Jurnal Spektran, vol. 6, no. 2, pp. 224-233, 2018.
D. Satriotomo, Efektivitas Layanan Jalan Tol Kota Semarang Dalam Memenuhi Kebutuhan Pengguna, Semarang: Universitas Diponegoro, 2011.
A. Dharmawan, "Rancangan Perbaikan Kualitas Pelayanan Jasa Dengan Metode Servqual, Importance Performance Analysis dan Quality Function Deployment Pada Plasa Telkom Cabang Dinoyo Surabaya," Jurnal Manajemen dan Teori dan Terapan, vol. 7, no. 3, pp. 207-224, 2014.
L. Eboli and G. Mazulla, "A New Customer Satisfaction Index for Evaluating Transit Service Quality in Public Transport," Journal of Public Transportation, vol. 12, no. 3, p. 2009.
V. Gaspersz, Total Quality Management Untuk Praktisi Bisnis dan Industri, Jakarta: Gramedia Pustaka Utama, 2006.
N. Handayani, M. T. Hasan and T. A. Renaldi, "ANALISIS PENGEMBANGAN MUTU PELAYANAN PASIEN INSTALASI RAWAT INAP ( IRI ) DENGAN METODE QUALITY FUNCTION DEPLOYMENT (QFD)," Jurnal Teknik Industri, vol. 23, no. 2, pp. 19-30, September 2020.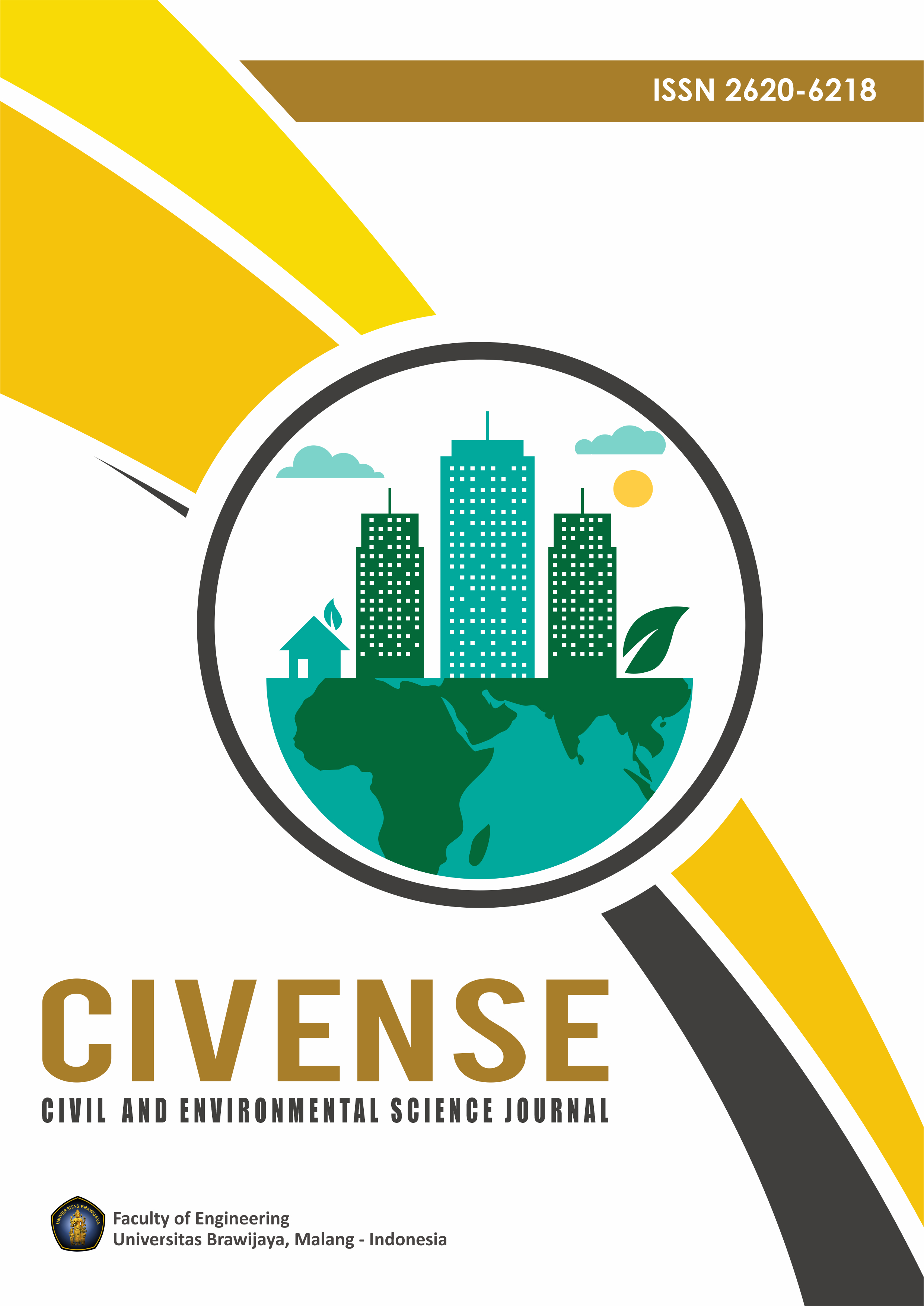 Downloads
How to Cite
[1]
S. G. Putra, A. D. Wicaksono, G. Prayitno, and N. T. Hiep, "Improving the quality of toll Road services to increase satisfaction level of Pekanbaru – Dumai toll road", CIVENSE, vol. 6, no. 1, pp. 24–32, Apr. 2023.
License
Copyright (c) 2023 Syah Gemma Putra, Agus Dwi Wicaksono, Gunawan Prayitno, Nguyen Throng Hiep
This work is licensed under a Creative Commons Attribution-NonCommercial 4.0 International License.
Authors who publish with this journal agree to the following terms:
Authors retain copyright and grant the journal right of first publication with the work simultaneously licensed under a Attribution-NonCommercial 4.0 International License that allows others to share the work with an acknowledgement of the work's authorship and initial publication in this journal.
Authors are able to enter into separate, additional contractual arrangements for the non-exclusive distribution of the journal's published version of the work (e.g., post it to an institutional repository or publish it in a book), with an acknowledgement of its initial publication in this journal.
Authors are permitted and encouraged to post their work online (e.g., in institutional repositories or on their website) prior to and during the submission process, as it can lead to productive exchanges, as well as earlier and greater citation of published work (See the Effect of Open Access).