Fe Ion extraction in patchouli oil with ion exchange using resin
Keywords:
Patchouli Oil, Ion Exchange, Resin
Abstract
Patchouli is the largest non-oil export commodity among essential oil exports in Indonesia. However, the quality of patchouli oil in Indonesia is considered to be very low. Traditional patchouli oil distillation is carried out in a small capacity and uses a simple distillation method based on a large difference in boiling points or one of the volatile components. This process produces poor quality patchouli oil such as acid number more than 8, dark oil, patchouli alcohol less than 30%, and high water content. This is evidenced by the large amount of Fe metal contained in patchouli oil. Patchouli oil produced contains a lot of iron in its yield, so it needs further processing to reduce the Fe content in patchouli oil. The use of resin as an adsorbent for Fe metal is one way to reduce the Fe metal content. Resin weighing 50, 150 and 250 grams was added to 200 ml of patchouli oil. Then the stirring process was carried out with a stirring speed of 200 rpm with time variations of 30, 60 and 90 minutes. The results obtained showed the best adsorption process with Fe content in patchouli oil of 1.42 mg/Kg, contact time of 90 minutes and amount of resin of 250 grams with the largest percentage of removal of 87.5%.
Keywords: Patchouli oil, Ion Exchange, Resin.
References
Manalu, Nadia Kresentia., dkk. 2019. "Adsorpsi Logam Fe dalam Minyak Nilam Menggunakan Kitosan Sisik Ikan". Jurnal Teknik Kimia. Vol. 14, no. 1
Muharam, Salih. 2017. "Peningkatan Kualitas Minyak Nilam (Pogostemon Cablin Benth) menggunakan Kombinasi Metode Fermentasi, Delignifikasi dan Destilasi". Jurnal Kimia VALENSI: Jurnal Penelitian dan Pengembangan Ilmu Kimia, Program Studi Kimia, Fakultas Sains dan Teknologi, Universitas Muhammadiyah Sukabumi.
Ningsih, M. S. (2020). Reduksi ogam besi (Fe) dalam minyak nilam (Patchouli oil) dengan metode kompleksometri menggunakan Etilen Diamin Tetra Asetat (EDTA). Thesis, Universitas Islam Negeri Alauddin Makassar., 97. http://repositori.uin-alauddin.ac.id/17136/
Alam, P. N. (2007). Aplikasi Proses Pengkelatan untuk Peningkatan Mutu Minyak Nilam Aceh. Jurnal Rekayasa Kimia & Lingkungan, 6(2), 63–66.
Mulyati, Sri. 2009. "Resin Penukar Ion". Jurnal Laboratorium Kimia Dasar Jurusan Teknologi Pangan Fakultas Teknik Universitas Pasundan Bandung.
Irawan, C., Dahlan, B., & Retno, N. (2015). Pengaruh Massa Adsorben, Lama Kontak Dan Aktivasi Adsorben Menggunakan HCl Terhadap Efektivitas Penurunan Logam Berat (Fe)Dengan Menggunakan Abu Layang Sebagai Adsorben. JTT (Jurnal Teknologi Terpadu), 3(2). https://doi.org/10.32487/jtt.v3i2.89
Pitriani,P. 2010. "Sintesis Dan Aplikasi Kitosan Dari Cangkang Rajungan Sebagai Penyerap Ion Besi (Fe) dan Mangan (Mn) Untuk pemurnian Natrium Silikat". Jakarta: Universitas Islam Negeri Syarif Hidayatul Jakarta.
Las, T., Firdiyono, F., & Hendrawan, A. (2011). Adsorpsi Unsur Pengotor Larutan Natrium Silikat Menggunakan Zeolit Alam Karangnunggal. Jurnal Kimia VALENSI, 2(2), 368–378. https://doi.org/10.15408/jkv.v2i2.199
Idris, Ahmad., dkk. 2014. "Analisis Kualitas Minyak Nilam (Pogostemon Cablin Benth) Prduksi Kabupaten Buol". J. Akademi. Kim. 3(2): 79-85, ISSN 2302-6030.
Nurdin, Dyyah Resky., dkk. 2017. "Analisis Pemasaran Minyak Nilam Dari Karya Baru Kecamatan Poleang Utara Kabupaten Bombana". Jurnal Ilmiah Agribisnis. Vol. 2, no. 1, hal: 19-23.
Syukran, dkk. 2016. "Penyulingan Minyak Nilam Menggunakan Uap Panas Lanjut". Teknosia. Vol. 11, no. 17.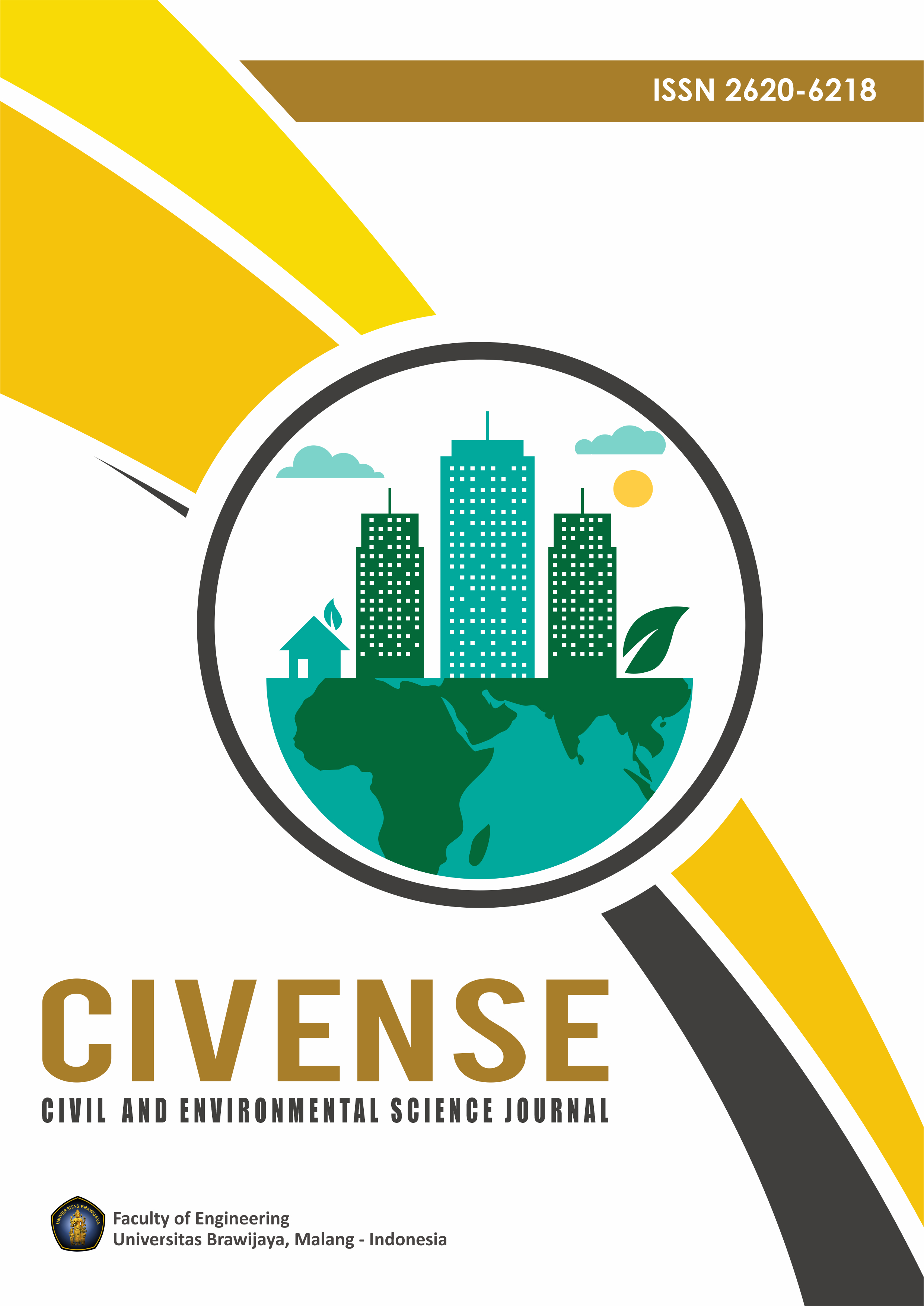 Downloads
How to Cite
[1]
A. R. K. Jaenuri, T. G. Anarchie, and K. Sumada, "Fe Ion extraction in patchouli oil with ion exchange using resin", CIVENSE, vol. 6, no. 1, pp. 11–14, Apr. 2023.
License
Copyright (c) 2023 Abdul Rahman Khadafi Jaenuri, Thafie Ghilas Anarchie, Ketut Sumada
This work is licensed under a Creative Commons Attribution-NonCommercial 4.0 International License.
Authors who publish with this journal agree to the following terms:
Authors retain copyright and grant the journal right of first publication with the work simultaneously licensed under a Attribution-NonCommercial 4.0 International License that allows others to share the work with an acknowledgement of the work's authorship and initial publication in this journal.
Authors are able to enter into separate, additional contractual arrangements for the non-exclusive distribution of the journal's published version of the work (e.g., post it to an institutional repository or publish it in a book), with an acknowledgement of its initial publication in this journal.
Authors are permitted and encouraged to post their work online (e.g., in institutional repositories or on their website) prior to and during the submission process, as it can lead to productive exchanges, as well as earlier and greater citation of published work (See the Effect of Open Access).