Erosion and sedimentation analysis as basic reference for land conservation planning on Lesti Sub-Watershed
Keywords:
lesti sub watershed, sediment analysis
Abstract
The Lesti sub-watershed area is mostly steep mountain slopes, when the rain fall it carries erosion and sediment material. Erosion Hazard Level on Lesti Sub-Watershed were obtained as follows: Class I 11.92%; Class II 27.45%; Class III 43.85%; Class IV 13.06%; Class V 3.99%. Four (4) parameters overlaid to determine the land criticality level are: the map of land coverage, land slope, erosion risk level, and management aspect. Generally, Lesti Sub-Watershed is categorized as: very critical 0.14%; critical 4.61%; a rather critical 28.06%; critical potential 53.66%; and normal 13.51%. From SWAT analysis with total sub-basin of 39 and 1013 HRU (Hydrology Respon Unit) resulted the average value respectively soil erosion is 119.60 tons/ha/year; sediment yields 310.77 tons/ha/year; rainfall 2143.27 mm/year; and surface runoff  1120.65 mm/year. The suggestions of the watershed area conservancy requires a vegetative (planting) and mechanical (building) method. The vegetative method such as: alleys cropping; reforestation; agroforestry; relay cropping; soil cover cropping as natural green manure; living fence or windbreak; mixed cropping farm; mulch; environment greening; strip cropping with 20.65% effectivity; and filter strip with 26.03% effectivity. The mechanical method such as: contour tillage with 29.71% effectivity; terracing with 23.41% effectivity; check dam with 17.50% effectivity; and mound.
References
Asdak, Chay.2004. Hidrologi dan Pengelolaan Daerah Aliran Sungai. Yogyakarta: Gajah Mada University Press.
Arsyad, Sitanala. 2006. Konservasi Tanah dan Air. Bogor: IPB Press.
Arnoldus Nama, Ussy Andawayanti, Ery Suhartanto. 2016. Analisis tingkat bahaya erosi dan arahan konservasi Lahan dengan aplikasi gis di Das Manikin. Jurnal Teknik Pengairan, Volume 7, Nomor 2, Desember 2016, hlm 205-215
Brotowiryatmo, S. H. (1993). Analisis Hidrologi. Gramedia Pustaka Utama.
Indonesia, P. R. (2012). Peraturan Pemerintah Republik Indonesia Nomor 37 Tahun 2012 Tentang Pengelolaan Daerah Aliran Sungai.
Kehutanan, M. (2009). Peraturan Menteri Kehutanan Republik Indonesia Nomor: P.32/MENHUT-II/2009. Kementerian Kehutanan.
Rokhmawati, A. (2014). Analisa Tata Guna Lahan DAS Lesti Berbasis SIG (Sistem Informasi Geografis). Jurnal Rekayasa Sipil, 2(No 1), 82–89.
Soemarto, C. D. (1995). Hidrologi Teknik Edisi Ke - 2. Erlangga : Jakarta.
Sosrodarsono, S. (2003). Hidrologi Untuk Pengairan (Cetakan Ke). PT. Pradnya Paramita.
Suripin. (2002). Pengelolaan Sumber Daya Tanah dan Air. Andi Press.
Umum, D. P. (1999). Panduan Perencanaan Bendungan Urugan (Volume 2).
Yuwono, E., & Sabaruddin, M. (n.d.). Kajian Pengerukan Waduk Sengguruh Kepanjen Kabupaten Malang. Jurnal Teknologi Terpadu, 2(1), 46–54.
Sulfandi, Rispiningtati, Ery Suhartanto. 2016. Studi Pengaruh Perubahan Tataguna Lahan Di Das Mamasa Terhadap Usia Guna Waduk Plta Bakaru. Jurnal Teknik Pengairan, Volume 7, Nomor 1, Mei 2016, hlm 139-149
Penggunaan Lahan Dan Pola Berdasarkan Citra Landsat Multiwaktu Dengan Land Change Modeler (LCM) Idrisi Selva 17: Studi Kasus Subdas Brantas Hulu. Jurnal Pendidikan Geografi : Kajian, Teori, dan Praktek dalam Bidang Pendidikan dan Ilmu Geografi Tahun 22, No. 1, Januari 2017 Halaman: 32-48
D Rahmi Fajarini, Baba Barus, dan Dyah Retno Panuju. 2017. Dinamika Perubahan Penggunaan Lahan Dan Prediksinya Untuk Tahun 2025 Serta Keterkaitannya Dengan Perencanaan Tata Ruang 2005-025 Di Kabupaten Bogor. Jurnal Tanah Lingkungan, 17 (1) April 2015: 8-15.
Yayasan Sabo Indonesia. Pengantar Teknologi Sabo. 2013
Shimaa M. Ghoraba. 2015. Hydrological Modeling of the Simly Dam Watershed (Pakistan) using GIS and SWAT model. Alexandria Engineering Journal (2015) 54, 583-594.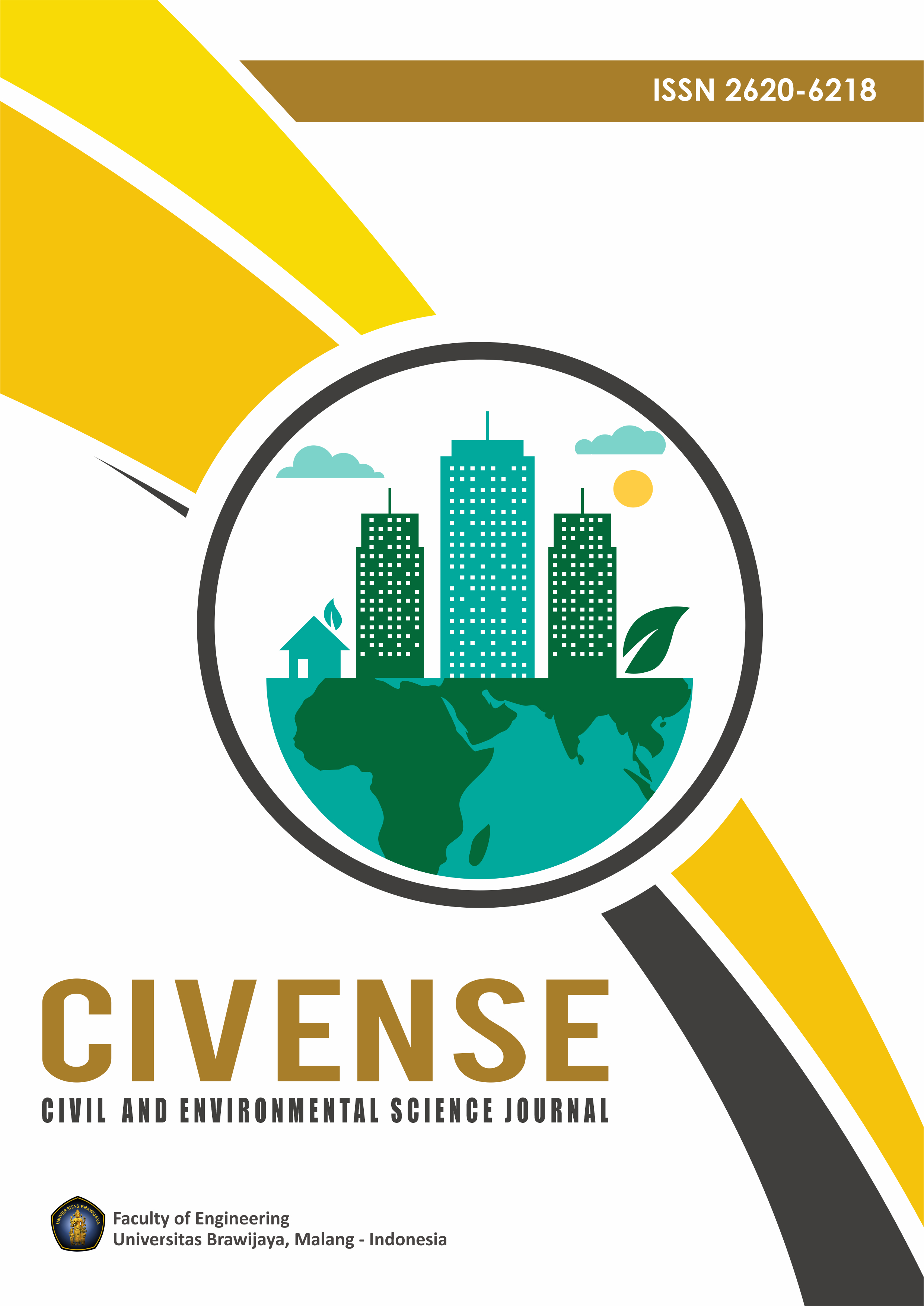 Downloads
How to Cite
[1]
H. Sumanto, V. Dermawan, and R. Asmaranto, "Erosion and sedimentation analysis as basic reference for land conservation planning on Lesti Sub-Watershed", CIVENSE, vol. 6, no. 1, pp. 1–10, Apr. 2023.
License
Copyright (c) 2023 Hari Sumanto, Very Dermawan, Runi Asmaranto
This work is licensed under a Creative Commons Attribution-NonCommercial 4.0 International License.
Authors who publish with this journal agree to the following terms:
Authors retain copyright and grant the journal right of first publication with the work simultaneously licensed under a Attribution-NonCommercial 4.0 International License that allows others to share the work with an acknowledgement of the work's authorship and initial publication in this journal.
Authors are able to enter into separate, additional contractual arrangements for the non-exclusive distribution of the journal's published version of the work (e.g., post it to an institutional repository or publish it in a book), with an acknowledgement of its initial publication in this journal.
Authors are permitted and encouraged to post their work online (e.g., in institutional repositories or on their website) prior to and during the submission process, as it can lead to productive exchanges, as well as earlier and greater citation of published work (See the Effect of Open Access).