Effect of Variation of Mixture (Wood Gelam+Rice Husk) on Bio-Pellet on the Value of Temperature, Rate and Pressure of Combustion
Keywords:
Biomass waste, Bio-pellet, Gelam wood, Rice husk, Combustion rate
Abstract
The increasing demand for energy causes the depletion of fuel fossil. To overcome this, it is necessary to utilize biomass and biomass waste. The purpose of this study was to simulate the effect of bio-pellet density on temperature, rate and pressure of combustion made from a mixture of gelam wood and rice husk. The method uses ANSYS simulation with literature review. The results showed that the increasing composition of rice husks had an effect on the decreasing combustion rate, this was due to the calorific value of the pellets making up the material. Where the lower calorific value of rice husk has an effect on the rate of combustion. Pellets that have a large density affect the rate of combustion so that it extends the burning time. The density of pellets is influenced by the pressure of pellet molding, the greater the pressure makes the fuel denser and has a large density. The highest combustion air pressure occurs at 100% gelam composition and the lowest at 100% husk composition. This shows that the addition of rice husk composition reduces the combustion pressure and vice versa applies to the addition of gelam composition.
References
Amrullah, A., Syarief, A., & Saifudin, M. (2020). Combustion Behavior of Fuel Briquettes Made from Ulin Wood and Gelam Wood Residues. International Journal of Engineering, Transactions B: Applications, 33(11), 2365–2371. https://doi.org/10.5829/ije.2020.33.11b.27.
Rima Riyanti, Ulinnuha Latifa, Y. S. (2021). Multitek Indonesia : Jurnal Ilmiah. 6223(January), 121–130.
Schipfer, F., Kranzl, L., Olsson, O., & Lamers, P. (2020). The European wood pellets for heating market - Price developments, trade and market efficiency. Energy, 212, 118636. https://doi.org/10.1016/j.energy.2020.118636.
Vera, I., Goosen, N., Batidzirai, B., Hoefnagels, R., & van der Hilst, F. (2022). Bioenergy potential from invasive alien plants: Environmental and socio-economic impacts in Eastern Cape, South Africa. Biomass and Bioenergy, 158(January), 106340.
Siwale, W., Frodeson, S., Berghel, J., Henriksson, G., Finell, M., Arshadi, M., & Jonsson, C. (2022). Influence on off-gassing during storage of Scots pine wood pellets produced from sawdust with different extractive contents. Biomass and Bioenergy, 156(December 2021), 106325. https://doi.org/10.1016/j.biombioe.2021.106325
Arsad, E. (2014). SIFAT FISIK DAN KIMIA WOOD PELLET DARI LIMBAH INDUSTRI PERKAYUAN SEBAGAI SUMBER ENERGI ALTERNATIF (Carakteristic Physical and Chemistry of Wood pellet from Industrial Disposal of Wood as Sources Energy Alternatif). Jurnal Riset Industri Hasil Hutan, 6(1), 1–8.
Sylviani, & Suryandari, E. Y. (2013). Potensi Pengembangan Industri Pelet Kayu sebagai Bahan Bakar Terbarukan Studi Kasus di Kabupaten Wonosobo (Potential Development of Wood Pellets As Renewable Fuel, Case Study of Wonosobo District). Penelitian Sosial Ekonomi Kehutanan, 10(4), 235–246.
Girsang, M. A. P. (2019). Analisa Karakteristik Bahan Bakar Alternatif Biopelet Dari Serbuk Kayu Dan Sekam Padi Terhadap Lama Waktu Pembakaran. 1–18.
Zadravec, T., Rajh, B., Kokalj, F., & Samec, N. (2022). The impact of secondary air boundary conditions on CFD results in small-scale wood pellet combustion. Fuel, 324(PA), 124451. https://doi.org/10.1016/j.fuel.2022.124451
Winaya, I. S., Sujana, I. G., & Tenaya, I. (2010). Formasi Gas Buang pada Pembakaran Fludized Bed Sekam Padi. Jurnal Energi Dan Manufaktur, 4(1), 2–6.
Sidabutar, V. T. P. (2018). Kajian Peningkatan Potensi Ekspor Pelet Kayu Indonesia sebagai Sumber Energi Biomassa yang Terbarukan. Jurnal Ilmu Kehutanan, 12(1), 99. https://doi.org/10.22146/jik.34125
Umrisu, M. L., Pingak, R. K., & Johannes, A. Z. (2018). Pengaruh Komposisi Sekam Padi Terhadap Parameter Fisis Briket Tempurung Kelapa. Jurnal Fisika : Fisika Sains Dan Aplikasinya, 3(1), 37–42. https://doi.org/10.35508/fisa.v3i1.592
Ulfa, D., Lusyiani, L., & A.R. Thamrin, G. (2021). KUALITAS BIOPELLET LIMBAH SEKAM PADI (Oryza sativa) SEBAGAI SALAH SATU SOLUSI DALAM MENGHADAPI KRISIS ENERGI. Jurnal Hutan Tropis, 9(2), 412. https://doi.org/10.20527/jht.v9i2.11293
Ciptaningtyas, Drupadi; Suhardiyanto, H. (2016). Ifat hermo isik rang ekam. Sifat Thermo-Fisik Arang Sekam, 10(2), 1–6.
Bandara, J. C., Jaiswal, R., Nielsen, H. K., Moldestad, B. M. E., & Eikeland, M. S. (2021). Air gasification of wood chips, wood pellets and grass pellets in a bubbling fluidized bed reactor. Energy, 233, 121149. https://doi.org/10.1016/j.energy.2021.121149
Jeklin, A. (2017). Jurnal Ilmiah: Energi & Kelistrikan. Sekolah Tinggi Teknik - PLN, 9(2), 1–23.
Huang, X., Hu, Z., Miao, Z., Jiang, E., & Ma, X. (2020). Chemical looping gasification of rice husk to produce hydrogen-rich syngas under different oxygen carrier preparation methods. International Journal of Hydrogen Energy, 45(51), 26865–26876. https://doi.org/10.1016/j.ijhydene.2020.07.116
Gilvari, H., van Battum, C. H. H., van Dijk, S. A., de Jong, W., & Schott, D. L. (2021). Large-scale transportation and storage of wood pellets: Investigation of the change in physical properties. Particuology, 57, 146–156. https://doi.org/10.1016/j.partic.2020.12.006
Manatura, K., Lu, J. H., Wu, K. T., & Hsu, H. Te. (2017). Exergy analysis on torrefied rice husk pellet in fluidized bed gasification. Applied Thermal Engineering, 111, 1016–1024. https://doi.org/10.1016/j.applthermaleng.2016.09.135
Djomdi, Fadimatou, H., Hamadou, B., Nguela, L. J. M., Christophe, G., & Michaud, P. (2021). Improvement of thermophysical quality of biomass pellets produced from rice husks. Energy Conversion and Management: X, 12, 100132. https://doi.org/10.1016/j.ecmx.2021.100132
Mian, I., Li, X., Dacres, O. D., Wang, J., Wei, B., Jian, Y., Zhong, M., Liu, J., Ma, F., & Rahman, N. (2020). Combustion kinetics and mechanism of biomass pellet. Energy, 205, 117909. https://doi.org/10.1016/j.energy.2020.117909
Gungor, A. (2010). Simulation of emission performance and combustion efficiency in biomass fired circulating fluidized bed combustors. Biomass and Bioenergy, 34(4), 506–514. https://doi.org/10.1016/j.biombioe.2009.12.016
Saosee, P., Sajjakulnukit, B., & Gheewala, S. H. (2022). Environmental externalities of wood pellets from fast-growing and para-rubber trees for sustainable energy production: A case in Thailand. Energy Conversion and Management: X, 14(December 2021), 100183. https://doi.org/10.1016/j.ecmx.2022.100183
Giesen, W. (2015). Case Study: Melaleuca cajuputi (gelam) – a useful species and an option for paludiculture in degraded peatlands. Sustainable Peatlands for People & Climate (SPPC) Project. Wetlands International. p 16.
Ramadhoni, F. (2016). Penebangan marak, hutan kayu gelam di Muba berkurang. Sriwijaya Post.
Alpian, Prayitno, T.A., Sutapa, J.P.G. & Budiadi. (2014). Kualitas asap cair batang gelam (Melaleuca sp.). Jurnal Penelitian Hasil Hutan, 32(2), 83-92. https://doi.org/10.20886/jphh.2014.32.2.83-92
Herry Irawansyah, Andy Nugraha, Moh Noer Afifudin, Muhammad, & Rizqi Nor Al'Arisko. (2022). Pengaruh Variasi Ukuran Serbuk (Mesh) Dan Persentase Perekat Tapioka Terhadap Sifat Fisik Pellet Kayu Gelam. Multitek Indonesia: Jurnal Ilmiah. Volume: 15 No. 2, Hal. 13 - 22. Doi : 10.24269/mtkind.v15i2.4194
Dwi Rasy Mujiyanti, Dahlena Ariyani, Nurul Paujiah, Muna Lisa, & Rizky Pradana N.E. (2021). Isolasi Dan Karakterisasi Abu Sekam Padi Lokal Kalimantan Selatan Menggunakan FTIR Dan XRD. Prosiding Seminar Nasional Lingkungan Lahan Basah. Volume 6 Nomor 2.
Nasukhah, Awal Laili Yuanita and Mahardhika, Aditya Yusuf. (2018). Pengaruh Massa Jenis Briket Arang Tempurung Kelapa Terhadap Waktu Pembakaran dan Konversi Panas Menjadi Listrik Menggunakan Thermoelectric Converter (TEC). Sarjana thesis, Universitas Brawijaya.
İsmail Özlüsoylu, Abdullah İstek, 2019, The Effect of Hybrid Resin Usage on Thermal Conductivity in Ecological Insulation Panel Production, 4th International Conference on Engineering Technology and Applied Sciences (ICETAS)
April 24-28 2019 Kiev Ukraine.
A Syarief, A Nugraha, M N Ramadhan, Fitriyadi, and G G Supit. (2021). The Effect Of The Percentage Of Alaban Waste And Rice Husk Waste With Tapioca Adhesive On The Physical Properties. IOP Conf. Series: Earth and Environmental Science. doi:10.1088/1755-1315/758/1/012019.
Gilang Wahyu Ramadhan, Basyirun, 2020, Pengaruh Tekanan Udara Terhadap Temperatur Pembakaran Oli Bekas pada Kompor, JURNAL DINAMIKA VOKASIONAL TEKNIK MESIN 5(2):163-168 DOI: 10.21831/dinamika.v5i2.34804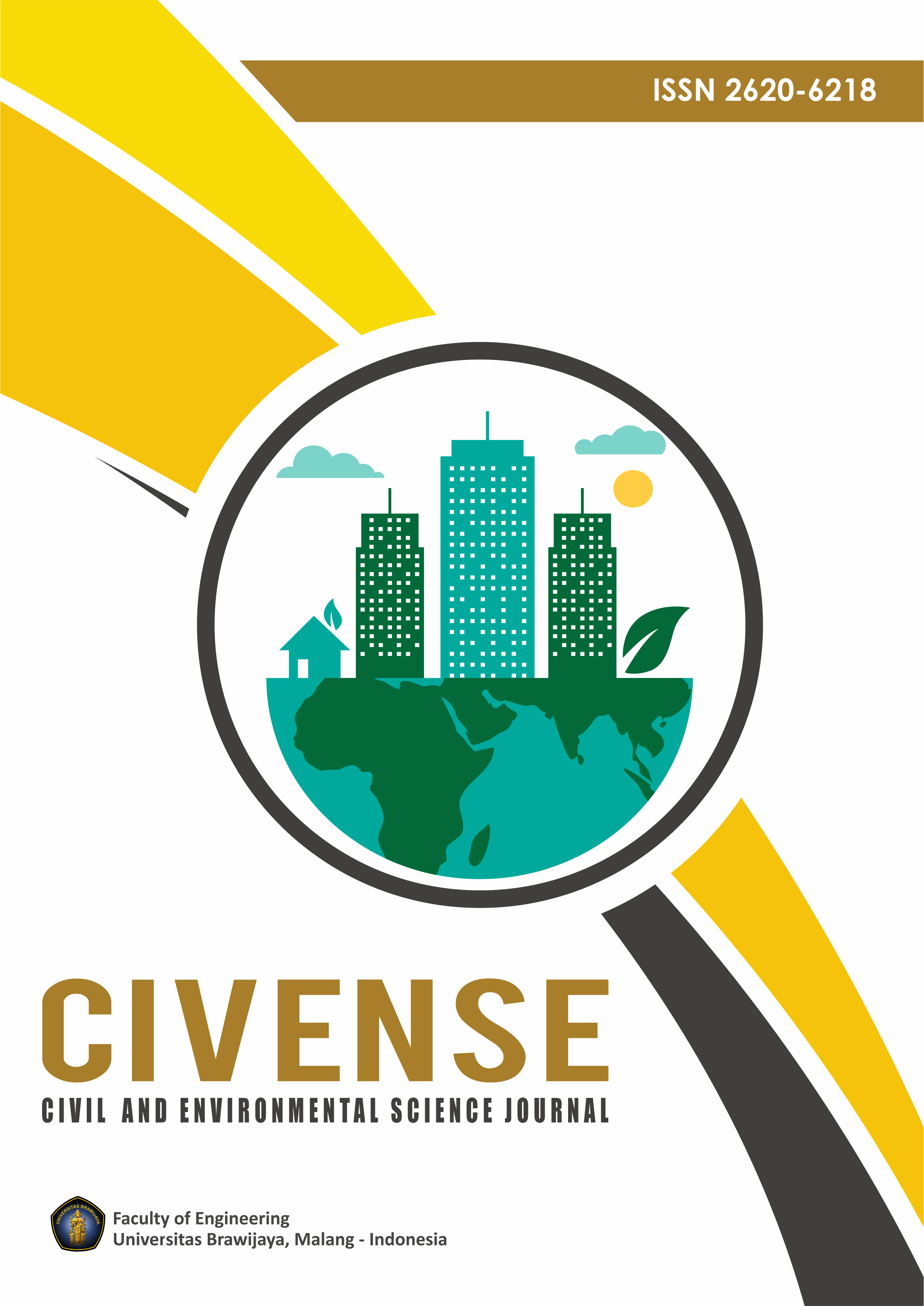 Downloads
How to Cite
[1]
R. Subagyo, A. Nugraha, H. Isworo, T. Pratama, and M. Z. Rusdi, "Effect of Variation of Mixture (Wood Gelam+Rice Husk) on Bio-Pellet on the Value of Temperature, Rate and Pressure of Combustion", CIVENSE, vol. 5, no. 2, pp. 159–170, Oct. 2022.
License
Copyright (c) 2022 Rachmat Subagyo
This work is licensed under a Creative Commons Attribution-NonCommercial 4.0 International License.
Authors who publish with this journal agree to the following terms:
Authors retain copyright and grant the journal right of first publication with the work simultaneously licensed under a Attribution-NonCommercial 4.0 International License that allows others to share the work with an acknowledgement of the work's authorship and initial publication in this journal.
Authors are able to enter into separate, additional contractual arrangements for the non-exclusive distribution of the journal's published version of the work (e.g., post it to an institutional repository or publish it in a book), with an acknowledgement of its initial publication in this journal.
Authors are permitted and encouraged to post their work online (e.g., in institutional repositories or on their website) prior to and during the submission process, as it can lead to productive exchanges, as well as earlier and greater citation of published work (See the Effect of Open Access).